Clamp school detectives
Welcome to CLAMP School, japans most prestigious place of learning - home to prodigies, wunderkinds and young geniuses of every make and model. In a world where the average student is smarter than the teachers, how then can the top students challenge their intellects? Why, by creating a detective service of course! Meet the CLAMP School Detectives: Nokoru Imonoyama, the worlds smartest kid, who can detect a woman in distress from two kilometers away; Suoh Takamura, a martial arts master who's cool as ice; Akira Ijyuin, detective by day, master their by night. Wherever there's a young lady in distress, they'll be there. After all, when you're as smart as they are, you don't have to study.
Powered by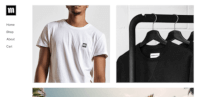 Create your own unique website with customizable templates.